Citizen Marilyn Sheldon has been treated like so many in our courts. After going through hell due to the system abusing her, listen to how Judge Cenerini disrespects and abuses her as she attempts to fight for her rights. Click here. Every Citizen needs to hear this!
---
Bogus Charges Against Marilyn Sheldon Dropped
Added 12-2008 with some quotes taken from Projo Article. Marilyn Sheldon was arrested by Hopkinton police last year on trumped up charges that she illegally taped conversations. The Rhode Island Attorney General's office followed through with the bogus case despite clear evidence to the contrary. This whole case was a clear example of how the system acts in collusion to shut Citizens up that are trying to exercise their Constitutional rights.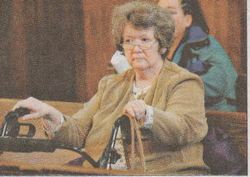 Marilyn Sheldon was ready on April 19, 2007. That was the day the Hopkinton building inspector came to the door, bringing Sheldon's landlord, the landlord's son and a police officer. The inspector wanted to see if repairs had been made to Sheldon's Hope Valley home, and Marilyn Sheldon, age 60, responded by having her daughter videotape their every move.
Only when the men went down to the basement did Sheldon and her daughter, then 19, stop following. But as the police and the attorney general's office later discovered, the men were still on camera. About five minutes after they went into the basement, one of the men pulled a cable from a camera in the rafters, causing the feed to an upstairs TV to go blank. Sheldon, incensed, later brought the videotape to the Hopkinton police, asking that charges be brought for destruction of property. Well it appears the Hopkinton Police decided they were going to "fix" her. How dare she protect herself and insure matters were being properly handled?
The police reviewed the tape, but rather than pursue a destruction of property charge they arrested Sheldon, alleging she illegally taped a conversation among three of the men while they were in the basement. Sheldon insisted at the time she was innocent, saying the camera was "in plain view." But the police had brought the tape to the attorney general's office which, as will be made clear, ACTED IN COLLUSION and decided there was probable cause to charge her with unauthorized interception of oral communication -- a felony that carries a prison sentence of up to five years.
Armed with a search warrant, the police seized more than 300 videotapes, a computer, a video cassette recorder, a TV and 32 Instamatic cameras from the house Sheldon rented at 14 Aldrich St. Last month, however, the case took a U-turn. After a detailed review, the attorney general's office concluded there was "insufficient evidence" to prove Sheldon was guilty.
Among other things, the men in the basement "knew they were being watched and listened to," which meant they had "no reasonable expectation of privacy," attorney general spokesman Michael J. Healey said this week. At one point, Healey said, the landlord and the building inspector whisper to avoid being heard, and one of them also says they should talk outside because Sheldon tapes everything. Sheldon, back in court yesterday to get her property back, had sharp words for people who put her through the 18-month ordeal. "It was a false arrest," she said during a break in yesterday's proceeding in Superior Court in Providence. "Everybody knew they were being recorded on audio and video."
Sheldon has said the trouble started when Manfredi refused to make repairs. In response, she made some repairs herself and stopped paying rent, but Manfredi's lawyer has said his client often could not get into the house to make repairs, even when he called ahead. The Town of Hopkinton eventually pressed charges against Manfredi, who made repairs and was back in April 2007 for what was supposed to be a walk through with the building inspector to show that the work was done.
The eavesdropping case against Sheldon normally would have been handled in Washington County, but it was moved to Providence after she said she was concerned about getting a fair hearing. Among other things, she said yesterday, court clerks in Washington County were amused by an unflattering video of her that had been posted on YouTube. The video later led to a misdemeanor cyber-stalking charge against a Richmond resident, who entered an Alford plea -- not admitting guilt but conceding there was sufficient evidence to find him guilty.
Just how much evidence there was in the felony case against Sheldon, now living in Narragansett, was a subject of debate yesterday. Sheldon said the attorney general's office should have known up front that the case was a "no-go," and her court-appointed lawyer, Mark L. Smith, acknowledged that had the prosecution checked the evidence "a little more closely" in the beginning, they might have decided not to charge her. But Healey said the attorney general's office did not see details in the video -- the whispering and the comments about Sheldon taping everything -- until they looked more closely this fall. So the Attorney General proceeds with a case putting a Citizen through hell BEFORE they look at the evidence carefully? Didn't Rhode Island go through enough of this foolishness with prior Attorney Generals like Jeff Pine? Based on actions and comments in the video, he said on Thursday that the men had "no reasonable" expectation of privacy. He softened that stance yesterday, saying it could be argued that they had "no expectation of privacy."
Hopkinton Police Chief John S. Scuncio said yesterday that he was unaware of the elements Healey cited in the videotape and stressed that the police charged Sheldon only after they brought the tape and other evidence to the attorney general. Doesn't the police chief at least look at the evidence before arresting and charging people with a crime? "If the attorney general intended not to do it, then they should have told us from the beginning. It would have saved us a lot of time and effort," he said. Healey, however, said Hopkinton "was very persistent about our charging this case."
He said the "probable cause" threshold that is used to decide whether to charge a case is much lower than the threshold for proving guilt beyond a reasonable doubt, which is what prosecutors consider as they prepare to go to trial. He said the attorney general's office moves cases as quickly as it can, given the case load. In 2007, there were 6,700 felony cases, he said. So let's get this straight. The explanation is that the Attorney General's office is swamped and short of resources. Yet they have the resources to pursue a bogus case for almost 2 years and don't really look at the evidence until AFTER they tear a Citizen's life apart?
The sign outside the Attorney General's office says, "With Great Power Comes Great Responsibility" Is the Sheldon case an example of power being exercised responsibly?
---
*** NEW - Added 2-20-08 ***

Download zip file of related suits in PDF format. These include depositions of four westerly police officers pointing fingers at their Capt. Matarese and Hopkinton police chief John Scuncio. He and 25 others named in new lawsuit also brought by Charles Mauti. To learn more of the bizarre twists and turns in the Marilyn Sheldon case - search her name on Google.
---
Marilyn Sheldon protesting outside the court.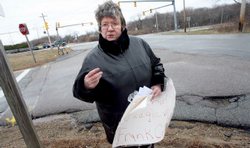 A Hope Valley woman (Marily Sheldon pictured at right protesting outside the courthouse) who has been involved in a protracted dispute with her landlord is to leave the rented house by Oct. 17, a Superior Court judge said last week, ending an appeal to her eviction. Under the judge-approved settlement, Marilyn Sheldon will not have to pay rent for the month of October as long as she moves out by Oct. 17. In turn, the landlord, Richard Manfredi of Westerly, agreed to forgive $6,000 in back rent Sheldon had been previously ordered to pay during eviction proceedings held in District Court.

Last Thursday Superior Court Judge O. Rogeriee Thompson also dismissed, with prejudice, Sheldon's $250,000 counterclaim for building violations that she alleged had not been corrected and money that she had invested in the property. A dismissal with prejudice means that the claim cannot be refiled. Sheldon, 59, and her 19-year-old daughter Heather rented the three-bedroom house at 14 Aldrich Strt. in September 2005 for $500 a month. In November of that year Sheldon complained to the town of possible housing violations, and in February 2006 the town filed a notice of violation.

In May a District Court judge ordered Manfredi to pay $13,500 for code violations. In filing an appeal, Sheldon claimed that some of the violations remain outstanding, including a failing cesspool and possible lead contamination. On June 18 the state Department of Environmental Management issued a notice of intent to enforce based on observations of " 'raw sewage overflowing in the backyard' on or about April 11." The notice was mailed again to Manfredi via certified mail on July 20, asking that immediate steps be taken to correct the discharge of sewage and to file a written proposal for a permanent solution within 30 days of receipt of the notice of intent.

The proposal has to be reviewed and approved by DEM. Failure to comply could result in a notice of violation being issued and a fine of up to $1,000 per violation being assessed. Manfredi's lawyer, Michael P. Lynch, said, "For any landlord to go through this is the worst nightmare. Mr. Manfredi is just glad it's over. It's never been about the money." Last month Manfredi said he had contacted the DEM and was in the process of mailing a letter to the state agency attesting there was no leak. "Everybody knows she staged it, but nobody can prove it," he said at the time, accusing Sheldon of deliberately letting the water run to flood the backyard septic system. Manfredi said he was unaware of any allegations of lead paint contamination. Sheldon has another pending matter in Washington County Superior Court, for allegedly secretly videotaping and audiotaping a conversation involving Manfredi, his son, and town's interim building official and a police officer. She is due in court on those charges on Oct. 1.

=====================

SOUTH KINGSTOWN — A Hope Valley woman charged with illegally recording her landlord's conversation with a police officer and town building inspector is asking that videotapes the police seized be returned to her. Superior Court Judge Stephen P. Nugent yesterday continued Marilyn Sheldon's motion to Aug. 27 to give the state time to review the tapes. Sheldon's lawyer, Daniel E. Ciora, Washington County supervisor for the state Public Defender's Office, asked for the videotapes, arguing they had no relation to the charge. Sheldon, 59, has said the tapes are master copies of the recordings for her former public-access cable TV show, Justice … Assistant Attorney General Craig V. Montecalvo objected to the motion, saying the investigation is continuing and the state has yet to decide which tapes will be presented at trial.

A trial date is yet to be scheduled. As filed, the log of property filed only identifies the tapes in question as 322 VCR tapes — the police report refers to 324 tapes. No description is given of their content. Sheldon admitted to video- and audio-taping a conversation among the men on April 19 in the basement of the home she rents at 14 Aldrich St., in the Hope Valley section of Hopkinton. But she said the camera was mounted "in plain view," and she had put disclaimers in the windows advising visitors that security cameras were installed.

Sheldon also says she had personally advised the men of the cameras' presence. In sworn affidavits, Officer David Whewell; acting Building Official Loren Gengarella; Sheldon's landlord, Richard Manfredi; and his son, Christian R. Manfredi — said they hadn't known they were being recorded. The four were at the property "to conduct and document" court-ordered repairs to the house.

The town sued Richard Manfredi last year in District Court for outstanding housing violations. He was ordered to pay $13,500 for those violations in May. Sheldon went to the Hopkinton police on April 23 — four days after the recording — to file a complaint against Manfredi for pulling the wires from the camera, according to a police report.

As part of her complaint, Sheldon gave the police the tape. According to the police report, the tape shows "Patrolman David Whewell, Mr. Loren Gengarella, Mr. Richard Manfredi and Christian Manfredi walking around the basement of this residence having conversation. Christian [Manfredi] observed the recording device and a short time later the screen went blank." Police later seized electronic equipment including a TV monitor, two VCRs, a DVD recorder, several cameras and two computer towers.

Sheldon said most of the items seized belong to her 19-year-old granddaughter, who lives with her at 14 Aldrich St. Sheldon has pleaded not guilty to the single felony count. She remains free on $10,000 personal recognizance.

SOUTH KINGSTOWN — A Hopkinton woman who once hosted a controversial public-access TV show pleaded not guilty yesterday to a charge that she surreptitiously taped her landlord's conversation with a police officer and building inspector. The police charged Marilyn Sheldon, 59, with illegally recording the three men in April as they inspected repairs at the 14 Aldrich St. home where she lives with her daughter. Officers seized a TV, a computer, a video cassette recorder, 32 Instamatic cameras and 322 VCR tapes. Sheldon is known by some for her TV show that accused politicians and public officials in Stonington, Conn., of misbehavior.

The program aired on Cox Communications until it was canceled last year. The Town of Hopkinton took Sheldon's landlord, Richard Manfredi, to court seeking repairs to 14 Aldrich St.

The police and building inspector joined Manfredi at the house to inspect the work. Sheldon has said the men knew they were being taped because the camera she placed in her basement was "in plain view." But Hopkinton Police Chief John S. Scuncio said they were in the house for 10 to 15 minutes before they realized they were being recorded.

The taping was illegal because Sheldon was not present and the men did not know an audiotape was being made, he said. Sheldon pleaded not guilty to the single felony count yesterday at a brief arraignment before Judge Stephen Nugent in Washington County Superior Court. Sheldon, who is being represented by Public Defender Daniel E. Ciora, remains free on $10,000 personal recognizance.

=======================

At first it was a case about minimum housing standards. The town of Hopkinton took Marilyn Sheldon's landlord to court, seeking repairs to the tan house at 14 Aldrich St. A year later, as the case now winds its way through the courts, its offshoots are generating more attention than anyone could have imagined. Two weeks ago Sheldon picketed outside the McGrath Judicial Complex in Wakefield, saying that District Court Judge Frank J. Cenerini would not let her talk in the housing case. Last week, Cenerini held Sheldon in contempt of court, sending her to the Adult Correctional Institutions for a night after she turned her back on him in the courtroom.

This week, Sheldon was arrested by Hopkinton police and charged with illegally taping a conversation when her landlord, the building inspector and a police officer came to the house to check on the repairs. The police seized dozens of items, including a TV, a computer, a video cassette recorder, 32 Instamatic cameras and 322 VCR tapes.

Sheldon, 59, known to some South County residents for the outspoken Justice . . . TV show she had on local cable until it was canceled, says she is the victim in all these matters. She says her landlord, Richard Manfredi, initially would not fix the problems and has sometimes shown up without notice, yelling and screaming at her for seeking repairs. She says the men who came to the house last week knew they were being taped because the camera she had placed in the basement was "in plain view." And she says Judge Cenerini has repeatedly refused to let her talk in the case involving Manfredi's house.

"The judge has never given me my day in court. I have been gagged from the beginning," she said. Others tell a different story. Cenerini aired his views yesterday during a hearing on Sheldon's request for a temporary restraining order against Manfredi, telling Sheldon for what he indicated was not the first time that she cannot speak in the housing standards case because she is not a party it. "You have chosen to want to speak from the gallery, and I have told you that is not allowed," he said. According to Manfredi's lawyer, Michael P. Lynch of Westerly, Sheldon and her 19-year-old daughter have been living in the house since 2005, when Manfredi agreed to rent it for $500 a month out of the "kindness of his heart." In return, Lynch said, Manfredi hasn't received a rent payment for more than a year and has often been unable to get into the house to see what repairs are needed, even when he calls ahead as required by state law. Lynch added that Manfredi can't evict Sheldon while the housing standards case is pending. "It's turned into every landlord's nightmare," he said.

Sheldon said she stopped paying rent after four months when Manfredi refused to make repairs. She claims to have performed some $10,000 in repairs and maintenance at the house, according to court documents, removing debris, replacing a dozen windows, replacing an oil tank, cutting the lawn and removing snow, among other tasks. Sheldon, who said she does not work due to a degenerative joint disease, is no stranger to controversy.

When Cox Communications canceled her cable TV show last year, the company said it was because of her unprofessional and disrespectful behavior toward Cox employees. She faces a felony charge in the criminal case involving the alleged taping, and is free on $10,000 personal recognizance. While Sheldon says the camera in the basement was in plain view, Hopkinton Police Chief John S. Scuncio said this week that the men were in the house for "10 to 15 minutes" last Thursday before they realized they were being recorded. He said the taping was illegal because Sheldon was not present and the men did not know that an audio tape was being made. "You can have a visual image but you can't have sound," he said. Sheldon did not prevail yesterday on her request for a restraining order to keep Manfredi from inspecting the house, but Cenerini set a hearing for May 7 at which she can present her case. The judge also urged Sheldon several times to get a lawyer and, in a telling moment, asked her if she thought progress had been made on the house. "It's been difficult, but yes," she said. "I'm sure all the parties think it's been difficult," he replied.